Community Forums, Candidate Forums, and other events sponsored and co-sponsored by League of Women Voters of Santa Barbara. 
Community Forums are held the third Wednesday of the month at the Louise Lowry Davis Center, 1232 De la Vina Street, from 12:00-2:00 p.m. They are always free and open to the public. You are encouraged to bring a brown bag lunch and your friends. Parking behind the Center is free during the forums.
Can Every Child Succeed? Special Programs that Meet the Challenge 
May 17, 2017 - With public education under attack as never before, we should remind ourselves that, "the League supports many federal programs, some designed to meet the special educational needs of the poor and minorities and others to give women and minorities equal education opportunities." And the League's MAY UNITS explicitly equates equal opportunity with equal quality. Following the civil rights era, the country saw major progress toward achieving such equality. But against a nationwide background of growing socio-economic and racial disparity, it is the grim fact that the current academic achievement gap among California's K-12 students keeps widening. Drop out rates by racial category vary by as much as 33%, the economically disadvantaged fail common core tests at a rate of 38%, and English Learners at an astonishing rate of 62%.
The good news is that for the first time we know the scope of the problem for these vulnerable populations and have begun to address it through expanded Pre-K and a variety of special K-12 programs. Speakers included: Ana becerra, Program Director at Just Communities; Kelli Choi, Director of the Academy for Success; Patricia Madrigal, Director of the Program for Effective Access to College (PEAC), students from these programs and Kate Parker, President of the Santa Barbara Board of Education. The Panel Moderator was Irene Stone. This program was co-sponsored by the Santa Barbara Public Library.
For useful information see the California Assessment of Student Performance and Progress research by Sean Rearden and Kendra Bishoff, and New York Times articles by Professor David Kirp.
 - Connie Hannah, Vice-President for Program and Advocacy
Garden Party 
Special Guest LWVUS President Chris Carson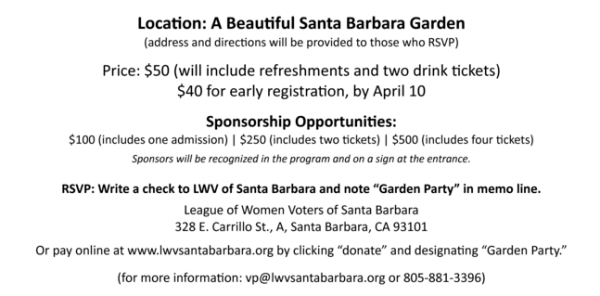 What's New About Climate Change? 
April 19, 2017 - Dr. Karl Hutterer, who teaches climate change for the Vistas Lifelong Learning program, will talk about what we are learning today about the rapid changes in climate and its effects around the world. Other panelists are: Cameron Gray from the Community Environmental Council, who will discuss innovations in controlling auto emissions; and Aeron Genet, the new director of the Air Pollution Control District, who will talk about new regulations controlling air quality in the state.
Please note that this forum will return to the Louise Lowry Davis Center. Bring friends and your lunch. Parking is free during the meeting.
Keeping People with Mental Illness Out of Jail  
March 15, 2017 - This Forum addressed the issues around people with mental illness and the jail from several different viewpoints. The panel members represented both the relevant government agencies as well as community organizations that are active on these issues. We had representatives from the Santa Barbara County Department of Behavioral Health, the Sheriff's Office, the Public Defender's and the District Attorney's Office. We also invited key members of community watchdog organizations, who illuminate problems and advocate for solutions. Many of these community people have experienced the frustrations of the crisis first-hand.
You can see Ann Gibbs notes here.
Can We Still Talk ... and Listen to One Another? 
February 15, 2017 - One lesson of the 2016 election is that too many of us simply don't talk to, or listen to those with whom we do not readily agree. But the centerpiece of the League of Women Voters' work remains the expansion of public participation in governmental affairs for a healthy democracy, and respect for the voices of all Americans.
The League believes that a robust public dialog is critical to a healthy democracy. Something has gone wrong and our League has made a commitment to addressing the problem.
The Forum featured 2nd District Supervisor Janet Wolf and Lanny Ebenstein, political science, author and educator, and included a presentation by representatives of the League of Women Voters of San Luis Obispo, Sharon Kimball and Deb Humphreys about their nationally acclaimed study and report on best practices in promoting civil discourse on public policy issues. Here are some of their notes.


Discovering Our Modern Libraries
January 18, 2017 - The League's January Forum will explain the many new programs of a modern library, and the people who make them happen. The Santa Barbara County Library System has a new director, Jessica Cadient. She is an experienced professional, who understands how the libraries are evolving, with the times, and the new technologies. She will be joined by several members of her staff including a Children's Librarian, who will explain some of the new children's programs the library has developed. This Forum will be moderated by League member Janice Rorick, retired librarian. Our recent Discussion Units found so much that was new and exciting that they wanted to share it with all our members and the public.
 - Connie Hannah, Vice-President for Program and Action
League Holiday Party -

Meet Our Newly Elected Officials 

December 21, 2016 - The League of Women Voters of Santa Barbara will hold its annual Holiday Party this year and meet with some of our newly elected officials. Joan Hartman, supervisor from the Third District who will replace Doreen Farr, will discuss her future plans. Das Williams, newly elected to take Salud Carbajal's seat in the First District will send his representative, Darcel Elliott, to represent him. The two City Council members from Carpinteria who have just been reelected will speak. Kyle Richards, newly elected City Councilman in Goleta, will be also be attending and speaking.

They will also meet with all of us informally at the festive tables. Bring your questions and a dish to share at our Potluck table to be enjoyed by all. Parking behind the center is free during the party.

 - Lindsey Baker, Co-President, Program & Action
Community Relations and Law Enforcement

Presenting Santa Barbara Chief of Police Lori Luhnow
November 16, 2016 - The League introduced Chief Luhnow to League members and the community, and she spoke on the topic of "Community Policing," as well as her 27 years of experience with the San Diego Police Department. Her work in that department has included overseeing officer training, and special operations, including Domestic Violence operations. She explained her views on community policing as an updated way that police work on an ongoing basis with community members, as opposed to just coming onto events during a crisis.
Chief Luhnow also participated in a panel following her presentation, and engaged with several organizations that frequently interact with the police department, including youth organizations, other public entities, and the judicial system. Glenn Bacheller: Homeless Affinity Group; Maureen Brown: Resstorative Court Liason SBPD; Maggie Campbell: Ex-Director Downtown Santa Barbara; Vanda Epstein: Outreach Specialist SBPD; Rev. Julia Hamilton: Unitarian Society of Santa Barbara; Officer Keld Hove:SBPD; Prof. Tania Israel: Counseling, Clinical, School of Psychology UCSB; Maricela Morales: Ex-Director CAUSE; Kathleen Riel: Independent Living Resource Center.
 - Beverly Herbert, Gun Violence Chair
View Emily Allen's powerpoint presentation.
What is Our Community Doing to Help Provide More Housing for Low-Income People?
October 19, 2016 - Recently the California League of Women Voters asked "What is your community doing to help provide more housing, especially for low-income people?" At the Wednesday, Oct. 19 Community Forum we up that took up the issue. The state and local Leagues support efforts to develop and preserve affordable and moderate income housing. The LWVSB also has specific policies related to homelessness that call for an "emphasis on affordable housing, including subsidized rentals." With this support for affordable and moderate income housing comes the direction to consider "where appropriate within the environmental constraints of water supply, air quality and transportation."
At times this has the potential to create a tension. LWVSB policy calls for the "coordination of social policy and natural resources." And in advance of this Forum representatives of the Sustainable Communities and the Social Policy Committees convened in order to discuss areas of agreement and areas of tension. At the October Community Forum longtime League members Connie Hannah (Sustainable Communities Committee Chair), Mickey Flacks (housing advocate) and Emily Allen (Social Policy Co-Chair) discussed these policy intersections.
State and local League policies around affordable and moderate-income housing are made in the context of what is frequently referred to as an "affordable housing crisis" in California and particularly Santa Barbara. Locally the League has been a coalition partner of the Rental Housing Roundtable--which is made up of community organizations and concerned individuals working toward social justice in our community to address the lack of legal protections for Santa Barbara renters. The vision of RHR is to: protect and encourage a diverse, inclusive, and representative community of very-low to moderate income renters and the development of healthy and vital communities to ensure the expansion of the local and regional sustainable economy and improve the wellbeing of present and future generations. The RHR is interested in looking at solutions for addressing affordable housing. Some of the solutions the RHR recognizes have been the average unit density program, investment in affordable housing, support of legal services and mediation and inclusionary zoning programs.
RHR recently held a community forum on rental housing issues where the community was surveyed and identified issues related to rental housing. These issues can be broken down into "Affordability," "Habitability," "Protection from Unlawful Evictions," and "Creation of A Tenants Union."
Frank Rodriguez from CAUSE joined us at the forum to discuss the work of the RHR including the RHR's decision to focus on a specific Rental Stabilization policy known as a "Just Cause Eviction."
 - Emily Allen, Co-Chair, Social Policy Committee
FIX IT, Health Care at the Tipping Point: Movie and Q&A
Cosponsored by Health Care for All - Santa Barbara & LWV Santa Barbara
October 16, 2016 - The movie was followed by discussion, a Q & A period, and light refreshments. FIX IT shows the growing support for an expanded and improved "Medicare for all" solution, with positive testimony from business owners and conservative politicians. The movie discusses how single payer can provide good coverage for all while saving money for individuals, families, businesses and public employers.
For information phone: (805) 682-5183
Pros & Cons of the CA Ballot Measures & Local Measures
October 9, 2016 
View your ballot on Voter's Edge California.
What the League Recommends - and Why?
September 21, 2016 - The League of Women Voters never supports or opposes candidates or political parties. But the League often makes recommendations on ballot measures. At our September Community Forum, we will explain LWV's recommendations on 11 of the 17 state propositions, and on several of the 7 local (county, city, or school district) measures that will be on South Coast ballots this fall. League members and speakers from other organizations that are working with us will present information on the ballot measures.
Some of the propositions are very confusing - in one case, intentionally so. And this will be an incredibly long ballot. So come learn more about it! LWVC's Vote with the League flyer is included with this Channel Voter. You may want to read it first, and bring it with you.
Remember, this is an advocacy forum. The LWVSB Education Fund will also host an impartial Voter Service forum on the Pros and Cons, in early October. The Community Forum, as always, is free and open to the public. You are encouraged to invite your friends. Bring your brown bag lunch; beverages will be provided. Parking behind the Center is free during the meeting.
 - Linda Phillips, State and National Action