The League of Women Voters of Fresno is working in partnership with building healthy communities to create #onehealthyfresno with #parks4all.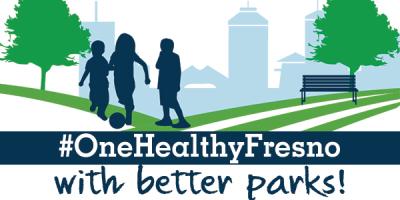 In healthy neighborhoods children ride bikes and play in nearby parks. The city of Fresno has promised to update the 1989 parks master plan. Let's hold them to their promise and with the help of residents all over fresno create a plan to provide safe, healthy parks and recreation for the whole city.
How can you help?
Write or call Mayor Lee Brand:
559 621-8000
2600 Fresno St.
Fresno 93721
Write or call your city council representative:
559 621-8000
2600 Fresno Street
Fresno 93721
Tell them to update the city's master parks plan with the help of a diverse citizens' task force.
Tell them to direct city resources to provide parks and recreation to existing neighborhoods especially those historically neglected in South and West Fresno.
Insist the city collaborate with Fresno Unified School District to open school grounds for recreation and park space.
Learn more about #Parks4All by downloading fact sheet http://www.fresnobhc.org/parks4all